Australia fires: Storms wreak damage but bushfires 'far from over'
Storms have brought heavy rain to fire-hit regions of eastern Australia - but authorities warn the nation's bushfire crisis is still "far from over".
More than 80 blazes were still burning across New South Wales (NSW) and Victoria on Monday, despite downpours.
Melbourne and Canberra have been hit by heavy storms, with hail as big as golf balls falling in some areas.
Hundreds of emergency calls were made as hail smashed office windows and car windshields in the nation's capital.
Further severe storms were also forecast for Sydney and Brisbane late on Monday.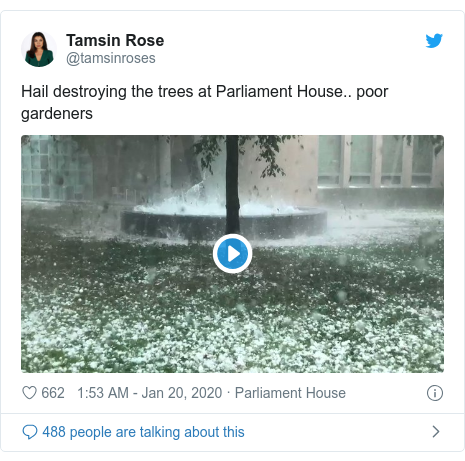 Victoria, NSW and Queensland experienced heavy rainfall and floods in recent days, bringing relief to some blaze zones.
But strong winds have also generated dust clouds, temporarily blacking out the sky in NSW towns such as Orange and Dubbo.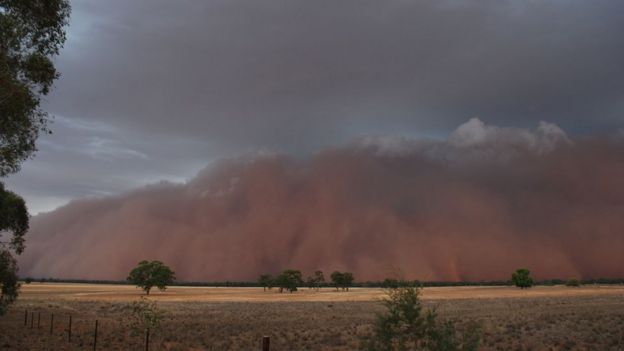 Dozens of communities across Australia's south-east are still reeling from fires which have been described as the most destructive on record.
Since September, blazes have killed at least 30 people, destroyed over 2,000 homes and burnt through 10 million hectares of land - an area almost the size of England.
The crisis has been exacerbated by record temperatures, a severe drought and climate change.
'Need to remain vigilant'
On Monday, Victoria's Premier Daniel Andrews said recent rain had proved "very helpful" to bushfire-affected communities.
But he added that storms had also hindered some fire- fighting efforts, and caused a landslide on a highway.
"Ultimately, we need to remain vigilant. It's 20 January - the fire season is far from over," Mr Andrews told reporters.
Mr Andrews said there was still a "massive fire edge" of more than 1.5 million hectares from blazes which had flared up in the state's east on New Year's Eve.
Air quality in the state capital, Melbourne, soared beyond hazardous levels last week due to smoke from nearby bushfires.
How long will the fire threat last?
In worst-hit NSW, the number of blazes has more than halved since the first week of January - when 150 fires were burning. There were 69 active fires in the state on Sunday.
But officials told the BBC there were still "many months to go" in the fire season, particularly in Victoria, South Australia, Tasmania and the southern parts of NSW and Western Australia.
"We haven't yet reached the peak fire season in parts of southern Australia. History shows us that February is extremely dangerous," said Dr Richard Thornton from the Bushfire and Natural Hazards Co-operative Research Centre.
"While the rain is important, it doesn't mean we're out of the woods," he said. "Our underlying conditions have been so dry that it won't take much to dry out the bush when the high temperatures and winds return."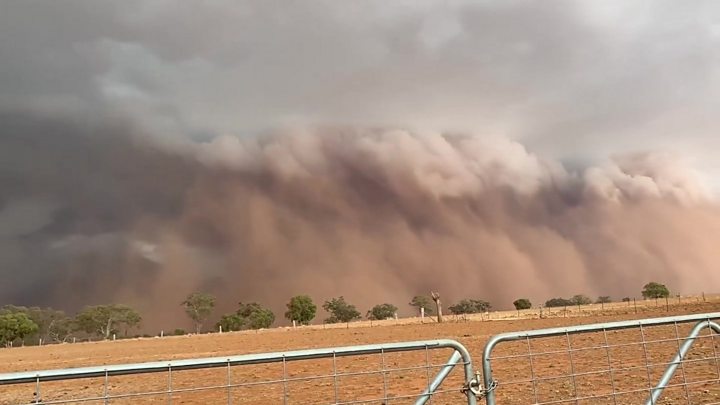 Historically, the worst fires have erupted in late January and February but authorities have warned that severe blazes could continue into April.
Officials in NSW have warned of a return to hot and windy conditions later this week.